Last Updated on September 26, 2023
The Tiger Gaming Sister Sites
Let's look at one of the oldest surviving gambling sites on the net. Its 25th anniversary is creeping up on us, so it's time for a rundown of the significant Tiger Gaming sister sites, followed by an honest Tiger Gaming review!
Here are the Tiger Gaming sister sites: BetOnline AG, SuperSlots, Wild Casino, Sportsbetting AG and Payday Casino.
Sites Like Tiger Gaming Casino
Reviews of Tiger Gaming Sister Sites
Even if it's on a .com domain, make no mistake: Tiger Gaming is in a group of island sister sites. Generally, it would be best to be more careful about AG sites because there's little regulation. But as you're about to see, the Tiger Gaming sister sites are the rare exception:
Complete corporate and licensing documentation
Decent transparency
Somewhat above-average ratings on Trustpilot
Some of these names are probably familiar to you since they have a place in online gambling history. The others might be new to you. Either way, there are some similarities between sites because we won't be covering them one by one:
All of the sites are owned and licensed by Itagui Investments. You can see the license information in the first section above. Only Tiger Gaming uses the Thot Management NV subsidiary, however.
They all have similar deposit and withdrawal options, including credit and debit card fees. Make sure you use Skrill or Neteller if you want to avoid them!
With all that in mind, let's review the Tiger Gaming sister sites individually to show similarities and differences.
So, let's dive into it! We'll start with reviews of Tiger Gaming sister sites. Then we'll move into a corporate and licensing overview, critical when discussing Caribbean and Central American real money online casinos.
BetOnline – The Tiger Gaming Sister Sites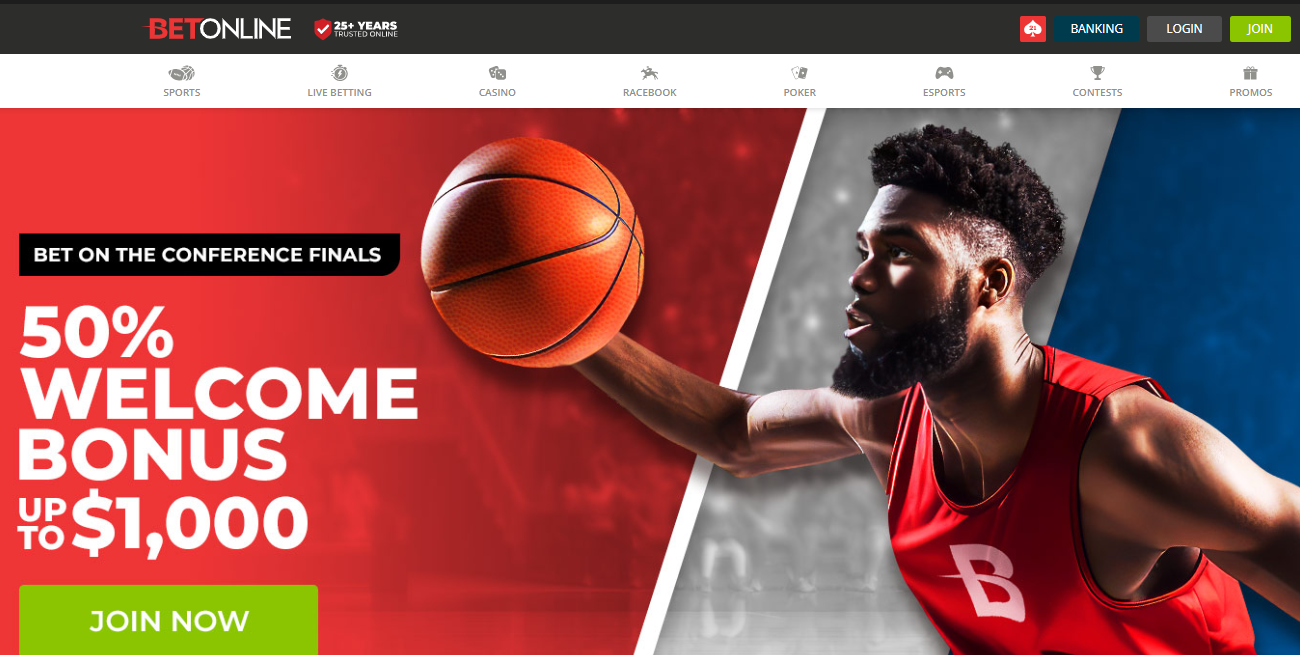 With us for nearly two decades, BetOnline AG is a legend in the online gaming community. They were one of the world's first real money online casinos to accept crypto. They were the author of some of the craziest commercials and promotions in the industry, including placing the first sportsbook bet from the top of Mount Everest!
Although they mainly promote their sportsbook, they offer live casino options, slots, and video poker.
The site itself doesn't feel dated and, to most, will seem far more modern than Tiger Gaming. You can easily search for game titles and filter lists of games using a variety of options. Their bet slip is as straightforward or as complex as you want to make it.
The casino game selection differs from the other Tiger Gaming sister sites. They provide the game maker's logo on each game's thumbnail, so you can quickly look up RTP as needed. There are plenty of Betsoft and Flipluck games to choose from.
You can opt into their weekly free contests to try to win part of the bonus prize pool. The most recent one is a good example: A $10,000 US Open Golf leaderboard prediction.
Go for the sportsbook for bonus offers because the casino offers are awful. The 100% Casino Deposit Match requires a 45x deposit plus bonus rollover. That's only possible with godlike luck.
But the 50% Deposit Sports Betting Bonus is far more reasonable, using an industry-standard 10x rollover requirement.
Their 100% Crypto Deposit Matching Bonus has a flat 14x rollover requirement, far better than the casino matching bonus. Finally, their Poker Welcome Bonus is a 10% Rakeback system worth considering.
One of the best BetOnline perks is their Cash Races. These are leaderboards with timed runs. Start your round timer, play until the time is up, and add your results to the leaderboard. Winners get a piece of the guaranteed prize pool.
So how does the public rate them? BetOnline has a good TrustPilot score, particularly for an AG site. 3.6 out of 5 (as of late June 2023) is better than many UK-regulated sites.
BetOnline is the best overall Tiger Gaming sister site. And we would only put up a little of an argument, though there's one other contender we'll look at shortly.
SuperSlots – The Tiger Gaming Sister Sites
Alright, we've hit a 'downer' moment. SuperSlots is tied for the worst Tiger Gaming sister site in our eyes, and the Trustpilot score of 2.1 (as of late June 2023) is primarily because of their customer service. Complaints range from rude and unhelpful staff to slow withdrawals. There may be a language barrier at work here, but it would behoove them to fix these issues.
They have 445 slots and over 50 table games to choose from. The same game providers are at work here: Betsoft, Dreamtech, Flipluck, Nucleus, and Dragon Gaming, among others.
They need a sportsbook. That's a big bummer to those who are coming from Tiger Gaming. But you can only use sportsbooks if you go for the bonuses because the rewards could be better.
SuperSlots' $1,000 Max, 250% First Deposit Bonus With 100 Free Spins. Has a rollover requirement of 35x deposit plus bonus. The math on this is as follows:
Deposit $400 to max out your $1,000 matching bonus. For example, find a machine to grind on one of the 97% RTP non-progressive slots. On average, you will lose 3% of your $1,400 balance every rollover. $42 lost 35 times equals $1,470. Congratulations, you've lost it all.
Even worse, SuperSlot's 400% Crypto Deposit Bonus has a 48x rollover requirement of deposit plus bonus. This may be the worst mainstream casino offer ever.
On a 97% RTP machine, you'll lose 3% of our $5,000 every rollover on average. That's a $7,200 loss before your bonus is cleared. If math isn't your thing, that means, on average, you'll lose everything and still have 30% of your bonus to clear.
Because of this, there's no reason to recommend SuperSlots. The other Tiger Gaming sister sites are just superior, except one.
Wild Casino – The Tiger Gaming Sister Sites
What if you could clone SuperSlots but make it look slightly more modern? Then you would get Wild Casino, the other lemon in the Tiger Gaming sister site family.
It has a 1.9 on TrustPilot as of late June 2023, sharing most of the same complaints stated for SuperSlots. Some of that comes down to support quality, once again. So if you play here, try to avoid having a problem. They could do better with most issues.
The bonus could be more transparent on SuperSlots. Some are identical. A 'new' one is the $9,000 Crypto Deposit Bonus with a laughable 45x rollover requirement, deposit + bonus. Don't get us started on this one.
Wild Casino runs several daily and monthly events to compensate for this badness. Freerolls, daily prize pools, reload bonuses, and slot tournaments with guaranteed prize pools make the site more bearable.
But once again, you need to avoid needing support. Easier said than done.
Or you can use the last of the Tiger Gaming sister sites we're about to present because we like to end these things on a high note!
Sportsbetting AG – The Tiger Gaming Sister Sites
Sportsbetting AG has one of the best Trustpilot scores in AG sites. Their 3.4 out of 5 (recorded in late June of 2023) score is the envy of many other island sister sites; even most UK-licensed sites would want a rating like that.
Sportsbetting AG is celebrating 20 years of being in business. And yet, they're still trying to improve. Their new Beta website is beautiful and will likely pass the test to become their new permanent site in the long run.
It has a clean GUI and provides excellent help and guidance. Like Tiger Gaming, Live Chat can answer your questions and help any account you need. They even have a Twitter account, which is known for answering questions and providing news on tasty bonuses now and again.
The prior version of the site took more work to navigate. Now the Beta site has a great search function that can filter the Slots, Video Poker, Table Games, and Blackjack tabs. Much better than clicking 'load more' a dozen times to look for a particular game.
Sportsbetting AG has a poker lobby that can use a downloadable poker client. Or play in any major web browser.
Their live casino consists of a good mix of medium and high-stakes tables. Blackjack is mostly higher stakes, starting at $10 per hand. No penny ante here.
The sportsbook is almost identical to BetOnline, which isn't a bad thing at all. And they have excellent bet slip building tools, quickly covering prop bets, parleys, teasers, and average bets.
A Contests section lets you compete against other players, much like the BetOnline sportsbook leaderboards.
Sportsbetting AG's bonuses are far more accessible to clear than Wild Casino or SuperSlots. Their 50% Sports Betting Deposit promotion only requires a 10x rollover. And if you try the 100% Matching Crypto First Time Deposit offer, it only has a 14x rollover, offering a max $1,000 bonus.
But once again, avoid the pure casino bonuses since they're mostly 40x deposit + bonus rollovers. Not as bad as some of the other sites we've mentioned, but still not good.
The First Deposit Poker 100% Matching Bonus is a 10% Rakeback scheme, allowing you to clear a $5 bonus for every $50 rake collected.
We double-checked with the live support chat, and Sportsbetting AG has a generous withdrawal policy. After all of your security and identity checks are passed, and as long as no bonuses are pending clearance, you can make up to two withdrawals in seven days. But remember, to avoid money laundering issues, all deposits are subject to a 1x rollover before regaining eligibility for a withdrawal.
It's hard to say if Sportsbetting AG is one of the best Tiger Gaming sister sites or the best Tiger Gaming sister site.
But it has a great combination of features: A good TrustPilot score, a great sportsbook, a well-documented license, and live help.
As with all AG sites, remember you're in the AG jurisdiction. It can be a little 'wild west' from time to time. You're usually fine if you follow the rules, but if you try to game the site on a technicality, expect bad things to happen. When in doubt, consult support to ensure you're on the up and up.
An Honest Tiger Gaming Casino Review
Something strange happened a short while back, and sadly nobody thought to catch it in the Wayback Machine, which we often use to check the histories of the real money online casinos we review.
The Trustpilot score of Tiger Gaming was reset. This rarely happens, usually in the case of a massive bot attack to review bomb a site, and for some reason, they can't roll back the results. There's also no Wayback Machine archive of the page, sadly. So this nearly 25-year institution has around a month's worth of reviews. We'll see how this pans out over the next couple of seasons.
Until then: Let's talk poker!
Tiger Gaming is known for two things, its sportsbooks and its poker rooms. They've had decades to hone their craft and establish their brand, and although they make careful innovations now and again, they know their target audience.
But that's not to say that a bet slip and a stack of chips is all they have to offer. They run the same core suite of casino games and live table games as the Tiger Gaming sister sites, which means a lot of Betsoft slots to pick from.
The interface feels more solid on the sportsbook side than many other sportsbooks, though the look is a bit dated. Better segregation and sorting options on the bet slip would be excellent. But that's minor compared to the actual functionality of the sportsbooks.
Tiger Gaming offers a massive array of sports to wager on. Like MLB baseball? Tiger Gaming has excellent coverage. You may have been lucky enough to put a couple of bucks on the perfect game last night; that would have made you a pretty penny. Basketball, football, soccer, traditional UK sports, international sports, Formula 1 racing… Tiger Gaming has them all, and the odds are pretty reasonable.
A robust prop bet section includes special events and sports prop bets worldwide. This includes offering wagers on over a dozen futures markets, primary political elections, and even lottery results.
As mentioned, poker is a big draw here. The main bonus offer is poker related, and a common monthly perk is a rakeback bonus. Tiger Gaming has a running bad beat bonus (generally a five-figure split), poker leaderboards, and a guaranteed cash tournament series with a faithful following. As this is being written (late June of 2023), they're running their Summer Micro Tournament series, which consists of micro stakes ladders ending with a $250,000 grand prize.
They have a unique prize variant for poker called the $1 Million Windfall Jackpot Sit & Go. It's a series of three-player hyper turbo sit & go contests, but at the end, the winner has a shot at a random multiplier between 1.5x and 100,000x the prize pool. Buy-ins are between $3 and $30. If the 100,000x is rolled, all three players in the game get paid, not just the winner. It's a nice perk for playing these truly wild games.
Cash poker games also have a live straddle feature. This means for twice the size of the big blind, a player can pre-bet a hand before the cards are dealt. The player who straddles becomes the last to act before the flop, while the first person to work becomes the player to their left. This creates a ton of action, given that it's all done blind and so much money has already been committed to the pot.
Moving on to the live casino, they have a vast blackjack, poker, and roulette selection. They also have all of the typical games seen on the world stage (baccarat, craps, etc.): nothing too exotic, but a solid amount of choices. Wagering ranges from $1 up to $500. This will please 99.9% of live casino enthusiasts, but high rollers might want that little extra.
This a reminder to look at the typical RTP for these games before you dive in. There's a reason the American Roulette table sucks; it just has worse odds than the Single Zero Roulette table. Refrain from falling for superstition; allow math to guide all your variance decisions.
Now let's have a look at Tiger Gaming's casino selection.
You'll want some good 97+% RTP slot machines to grind out your bonuses, and there are a few on offer here. Let's look at the standard BetSoft selections on offer.
Back to Venus is a 97.07% RTP machine with medium volatility. It's got five reels, 20 paylines, and a reliable 45% hit rate. It has two unique Second Chance features that can keep your spin alive when you thought it was lost!
Greedy Goblin is an old-school high-variance machine (32.7% hit rate), but it was made in 2014. It has a 97.2% RTP on its 30 paylines over five reels. If you like variance and have a lot of patience, this is the slot for you.
The Quest to the West may only have a 27.4% hit rate, but it's the best RTP of the bunch at a whopping 97.53%! It has five reels and 25 paylines, which you can use to collect Monkey King symbols. Get 15 or more, and you'll be awarded an instant 1,000x win!
And, of course, all of the old favorites are here as well; machines you've seen a hundred times before, so you know that it is well tested. Amusingly, some of these older machines are added as 'new.' That's fair since they're new to the site. For example, Betsoft's Frankenslot's Monster was recently added. Made in 2016, this five-reel slot has a 96.83% RTP and medium volatility.
Now that you know what's available to grind out bonuses, let's discuss them. Most are 'deposit + bonus,' which are rarely a good deal. But to their credit, there's only a 30x D+B rollover for their 100% First Deposit Match Up To $1,000.
Let's do the math. Using a 97.5% RTP machine, you lose $50 of your $2,000 total balance on every average rollover. That puts your average loss at $1,500. So by the time you grind through your bonus requirements, you will likely have some of your original stake left. But you'll get pretty lucky to have any bonus left. That said, this is a lot of slot action for your money, so as long as you're enjoying yourself, you've essentially doubled your playtime.
Speaking of deposits, an honest Tiger Gaming review is only complete with a look at deposit and withdrawal options. Players can deposit using all major cryptocurrencies, credit and debit cards, Skrill, and Neteller. Note that there's a 9.75% service charge for credit and debit cards, so if you can use Skrill or Neteller instead, you'll save a lot on transaction fees!
Withdrawals are the same, but you can avoid the transaction fees for small amounts by taking advantage of a specific offer:
"Every 30 days, players are eligible for a $50.00 discount on the payout method of their choice. The payout request must be made on a Friday to take advantage of the discount. While making the payout request, the player must specify that they are taking advantage of the $50.00 discount."
I've never seen it done exactly like that, but it's nice to know!
Finally, let's check out support options. As retro as the website looks, clicking on their Help link at the bottom of the home page takes you to a live chat option! If you're more comfortable with E-mail, a link is on the same page. It's nice they've implemented live chat, as it can often be the fastest way to resolve simple issues.
To summarize, Tiger Gaming is a solid real-money online casino. It has less table game and slot variety than some newer sites, but the RTPs are good. The bonuses aren't stellar because it's a D+B rollover, but at least they give you a statistical shot which is more than we can say of some other casinos.
Who Owns the Tiger Gaming Sister Sites?
Ownership of these casinos is a public record, surprisingly. It's easy to hide the real owners of these sites, but the Tiger Gaming sister sites have chosen not to.
Suppose you look at the Terms and Conditions of Sportsbetting. Ag's website, you'll see that section 16 gives you the name of the investor group that owns these sites:
'Itagui Inc., License No 2402, is licensed and regulated by the Gambling authority of Antigua & Barbuda.'
You can browse a company's Panamanian corporation registration by visiting their government portal. They verify your nationality via your passport information, but most countries worldwide will have access to this data. After registering with the government, you can search for their public record and look up Itagui's corporate documentation.
As a shortcut, the foundation you want to look up is Commercial Folio Number 764817 (S), registered on 03/27/12. It should be registered as 'Itagui Investments.' You'll see that they have lifetime registration in Panama.
To look up Itagui Investments' gaming license, you'll want to visit the FSRC website. This is a repository for the license information – AG domains involved in gaming… or at least the legit ones.
As you can see, Itagui does indeed have a license listed! The license validity expired around a month ago, but these government websites update very slowly. We'll periodically check to see if the government has uploaded a renewal copy, and we've sent them an E-mail to see if they will verify that Itagui Investments had their license renewed. The government agency in question has yet to get back to us.
You may have noticed that Tiger Gaming is registered explicitly to 'Thot Management NV as a subsidiary. You can go to the Curacao Chamber of Commerce website to find information on them. Enter their registration number, 125803, and then follow the link to their registration documents. You should see a registration date of March 23, 2012.
This is an amazingly complete record of ownership for any real money online AG casino. After running into a brick wall, you only get three steps in for most of them. So, even if they hold a (fairly useless) 5536/Jaz gaming license, the Tiger Gaming sister sites are already several steps ahead of their local competition.
Let's jump into our honest Tiger Gaming review and see if that transparency extends into their day-to-day operations.
Is Tiger Gaming Safe and Legit?
There are old-timers on the Sister Casinos team who swear by them. For an AG-based site, it's got a long history, and a lot of the site's regulars trust Tiger Gaming as a brand and as a company.
But remember: Don't rely on the regulator if things go wrong; they won't be helpful. Curacao has never been a 'proactive' regulator.
It's hard to say where the Trustpilot score will eventually end up, but we'll try to recheck it towards the end of 2023 and see if it has hit at least 100 ratings. Best guess? Somewhere between 3 and 3.5 after you factor in the people constantly complaining about losing.
Look at the Tiger Gaming sister sites to see how they compare.
Wrapping It All Up
The Tiger Gaming sister sites are great, except for the two that need to be added.
The good news is that there's no need to offer Tiger Gaming Casino alternatives because there are two excellent alternatives within their sister sites: BetOnline and Sportsbetting AG.
The bad news is that Wild Casino and SuperSlots need significant support and policy overhauls to compete with the other Tiger Gaming sister sites. The difference isn't even close.
The best bonus offers of the bunch are at Tiger Gaming. Not quite a break even on average, but at least competitive and better than most of the marketplace.
The best support and overall experience is BetOnline. The TrustPilot rating is good, and the site is well-oiled.
The best sportsbook is Sportsbetting AG. We may catch some flak for this one, but it edges out the other two Tiger Gaming sister sites that offer a sportsbook. All of them are good. Sports betting is the best.
Have a different opinion? Let us know! We won't listen to conspiracy theories or rumors, but we will chat with you about our articles and answer any questions we can.